The Bible says we must put ourselves last if we hope to be a servant to all and reflect Christ (Mark 9:35). What that does not mean, however, is that we must "put ourselves down."
Negative self-talk, hatred of self, and putting yourself down are not commands found in the Bible. So what does the Bible say about putting yourself down?
In the Bible, Putting Yourself Down Does Not Equate to Lifting Christ Up
Often times in our desire to give God all the praise, we seek to do this by diminishing ourselves. The desire to give all the credit to God is a holy desire, but the way we seek to fulfill this desire is often misguided. Martin Loyd-Jones states:
The first thing to say of a Christian is that he is a saint. I fear that may sound rather strange to some of us. We tend to say, 'Well, I am a Christian, but I am far from being a saint.' We are afraid of making such a claim; somehow we are afraid of this particular designation; and yet in the New Testament we are addressed as 'saints.'"
People are often fearful of truly accepting how perfect, holy, and pure Jesus has really made them (justification) because they worry they are being prideful if they admit such things. Subconsciously we sometimes translates the words of John the Baptist, "He must become greater; I must become less," (John 3:30) into a verse that doesn't exist, "For him to become great I must make sure everyone knows I am a loser."
John was not putting himself down in this Bible verse. When John said what he did, he didn't mean for Jesus to be seen as great he must be seen as an idiot. What he meant was his publicity and fame needed to die down now that the real Star was here.
Nowhere in the equation of exalting Jesus Christ is there a need to put yourself down. When we are focusing on self, we are already missing the point. To exalt Jesus, the positive focus should be on him; there does not need to be a negative focus on yourself.
Certainly Paul pointed out his many past flaws (Philippians 3;1-11) and his continual struggles with his old nature (Romans 7:19-20). But the point of this was not to highlight his own darkness but to highlight the undeserved brightness he now had because of Jesus Christ:
Wretched man that I am! Who will deliver me from this body of death? 25 Thanks be to God through Jesus Christ our Lord!" (Romans 7:24-25)
Any time Paul drew attention to his own problems, it was only for the sake of pointing to Jesus. Paul was not putting himself down as a way of lifting Jesus up. Rather, he was painting an accurate picture of the problem so we all can better appreciate the amazing solution of the gospel.
Rather Than Put Yourself Down, the Bible Says We Should Shine Brightly for God's Glory
Everything good about us is because of Jesus Christ. As John the Baptist explained, "A person can receive only what is given them from heaven" (John 3:27).
So we should seek to glorify God not by shining less, for as Saint Irenaeus stated, "The glory of God is man fully alive." Rather, we should seek to glorify God by embracing his power so we are shining brighter while giving all the credit for our brightness to him:
In the same way, let your light shine before others, so that they may see your good works and give glory to your Father who is in heaven." (Matthew 5:16)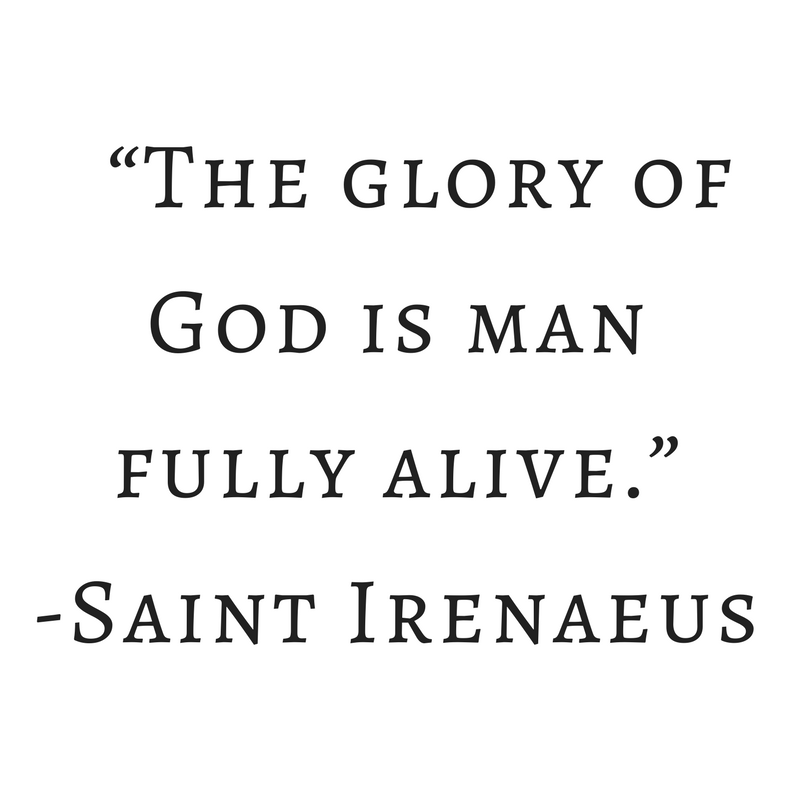 If we want to glorify God like the Bible says to do, we should not put ourselves down. An architect is praised because of the magnificent structures he creates. He isn't threatened that a building might get all the praise. Instead, he knows the more beautiful the building he makes, the more praise he will receive. If the building created itself, then it would be worthy of receiving praise. But a building is always made by a builder, just as a Christian is always made by Christ. We are not to boast, for we are God's workmanship (Ephesians 2:9-10).
When we become one with Christ, God doesn't tell us not to boast because there is nothing to boast about. He simply tells us not to boast because we don't deserve any of the credit. In fact, God actually expects us to boast about him, "Let him who boasts boast in the Lord" (1 Corinthians 1:30).
He did not say to put yourself down. He didn't say not to boast at all. He just said when you do boast, boast only in the Lord. This is why Paul says, "May I never boast except in the cross of our Lord Jesus Christ . . ." (Galatians 6:14). We are not supposed to diminish the amazing work of God in our hearts. We are supposed to fully recognize it and believe it so that we can praise God for it.
It's wrong to take credit for the goodness God produces in our lives, but it is also wrong to deny the goodness he produces. We are to accept his amazing grace as new creations and celebrate God because of it and through it.
Summary: What Does the Bible Say About Putting Yourself Down?
The Bible basically says that the good we have is undeserved but it is also undiminished because Jesus transferred his worthiness to us. We don't deserve to be holy and free, but Jesus deserves for us to be holy and free because of the price he paid.
The gifts God gives us are not meant to make much of us. They are to make much of him. God forgives us for his glory, makes us new for his glory, and even causes us to produce good fruit for his glory.  All of it benefits us, but it is all meant to glorify him.
Therefore there is no need to put yourself down according to the Bible. Rather, our life should now be spent serving God through the grace he's given us, celebrating him for all the good in our lives.