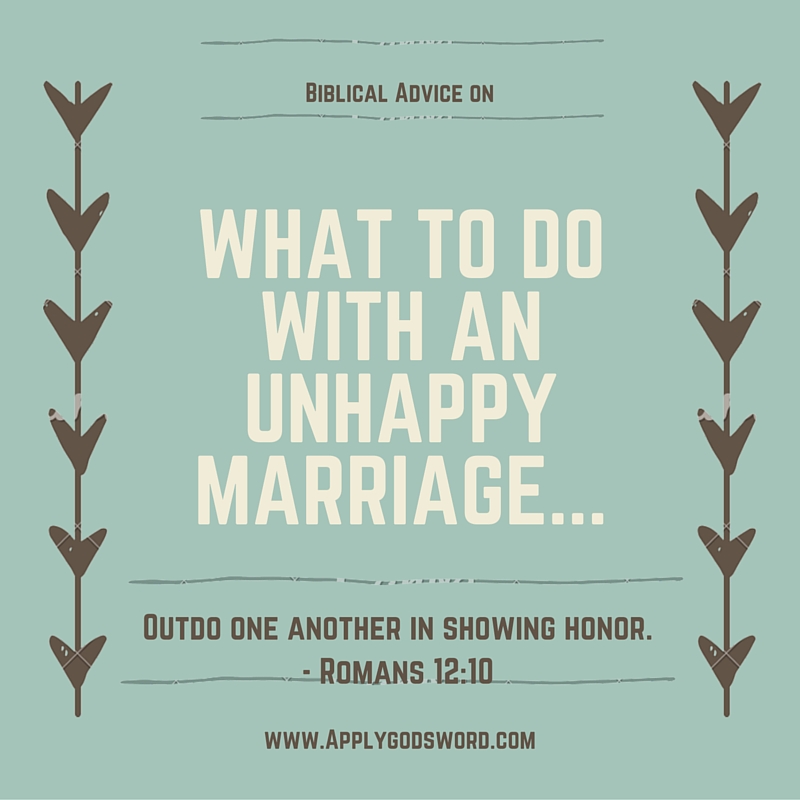 Bible Verses:
31 "Therefore a man shall leave his father and mother and hold fast to his wife, and the two shall become one flesh." 32 This mystery is profound, and I am saying that it refers to Christ and the church. 33 However, let each one of you love his wife as himself, and let the wife see that she respects her husband. – Ephesians 5:31-33
Let love be genuine. Abhor what is evil; hold fast to what is good. 10 Love one another with brotherly affection. Outdo one another in showing honor. – Romans 12:9-10
There are so many "solutions" in the world to help an unhappy marriage? Marriage counseling, retreats, advice, tips, marriage mentoring, and so many others really can offer some good wisdom. All of which can be used by God, but none of which will truly help if the spouses lack this one thought: How can I love my spouse?
If that's the question we are asking, God will always help us find the answer.
Biblical Advice on Marriage: Serve Your Spouse
Marriage thrives when you no longer view it as trying to get what you want, but rather as an opportunity to give what you want. If you want to be loved, marriage is a good place to be. If you want someone to love, marriage is the greatest place to be. Individuals have no control over anything except themselves. We can't force our spouses to treat us the way we want, but we can seek to treat our spouses the way they want.
All unhappiness, including a miserable marriage, is rooted in unmet desires and expectations. We are depressed and saddened when we imagined what we would receive and what we actually get is different. To truly find happiness in marriage, we must be so content, filled, and in love with Jesus Christ that all our deepest desires are met in him, thus freeing us from the possibility of being deeply disappointed with other people, especially our spouses.
Biblical Advice on Marriage: Need Your Spouse, Not Out of Need, But Out of Love
Seeking love from Jesus doesn't mean that we stop seeking to be loved by others. It doesn't mean we no longer seek to enjoy our husbands and wives. For to truly love others, they must know that we receive their love, need them, and enjoy them.
We must remain open and vulnerable to needing and wanting our spouses. This in itself is a form of love because our spouses will not feel loved by us if we have no real desire or need for them. As C.S. Lewis said of God, "If He who in Himself can lack nothing chooses to need us, it is because we need to be needed."
Likewise, we must seek to need and desire our spouses not because if we don't get what we want we will be undone, but because it is a great form of love to want and need someone.
Biblical Advice on Marriage: Jesus Must Be Our Ultimate, Not Our Spouse
But our spouses must not be our ultimate. Jesus must be our ultimate because only he is the perfect person our hearts truly need. The only way we will avoid an unhappy marriage is to not see marriage as a way to be served, but as a way to serve.
Being married to an imperfect person is not a great situation if you are seeking a place where you will be endlessly loved perfectly in the exact way you hoped. However, if your desire is to love, serve, and put someone else first who genuinely needs your support, being married to an imperfect person is a great opportunity.
Biblical Advice on Marriage: Marriage is the Place to Express Your Joy, It's Not the Primary Place to Find Your Joy
Every spouse will fail in their love because only Jesus Christ is perfect, so only he never fails in his love. If we hope to have a happy marriage, we must first be joyful in Christ, taking that joy into our marriage. Marriage should produce joy, but more than that marriage is a place where we can express the joy and love given to us by God. Just as Christ finds joy in his church, he nevertheless does not find his ultimate joy and love in his church. Rather, he goes to his bride to give the love and joy he already possesses within himself, within his triune relationship.
Marriage should be seen as an opportunity to serve and put the other person first. When giving is the goal, we will be far less disappointed when we don't receive what we want. Unhappiness in marriage happens when both spouses take rather than give. Christ came into the world not to be served but to serve, and give his live as ransom for many (Mark 10:45).
If marriage is supposed to be a symbol of Christ and his church (Ephesians 5:22-33), those in a Christian marriage will only find the joy of Christ in marriage when they play the role of Christ in marriage: a loving servant.
Now as the church submits to Christ, so also wives should submit in everything to their husbands.
Husbands, love your wives, as Christ loved the church and gave himself up for her . . .
-Ephesians 5:24-25