How do you get someone to forgive you? As hard as we try not to, we all sin against those we love. Sometimes it is difficult for them to forgive us.
Whether it's because we keep sinning against them the same way or because the sin we confessed was so hurtful (like cheating/adultery), there are times in life when we will confess our sins to those we have hurt, but they will struggle to forgive us.
Thankfully the Bible talks a lot about forgiveness. Here are five truths found in Scripture that will help answer the questions, "How do I get someone to forgive me?"
1.How to Get Someone to Forgive You: Ask for Forgiveness, But Don't Force It Because Forgiveness is Their Choice
Biblically speaking, it's actually impossible "to get someone to forgive you" or "make someone forgive you." True forgiveness, like love, is always a choice each individual must make within their own heart. Our relationship with God should be the blueprint for our relationship with others.
When we sin against God, we don't "get" or "make" Jesus forgive us. Jesus forgives us because he chooses to, because he desires it, and because it is his character to offer grace when we don't deserve it.
When we try to force people to forgive us, it hardens their heart even more towards us. The first thing we should do when we want forgiveness is ask the person we sinned against. The next thing we must do is allow them the freedom to do whatever they decide to do. Even if they don't forgive us when we ask, which is against God's command, we must allow them the freedom to do what they want. We can't shove the Bible back in their face and expect them to jump at the opportunity to have affectionate and warm feelings towards us.
Notice the burden God places on the one sinned against in Matthew 6:14-15, "For if you forgive others their trespasses, your heavenly Father will also forgive you, but if you do not forgive others their trespasses, neither will your Father forgive your trespasses." God instructs the person who was wronged to go out of their way to seek reconciliation because it is there choice. Of course the offender should pursue it as well (Colossians 3:13), but God speaks to the offended because the choice to forgive is always with the person who was wronged.
Therefore, to get someone to forgive you, you must allow that person the time they need to obey God on their own free choice.
2.How to Get Someone to Forgive You: Truly Repent and Be Genuine
Again, God has placed the burden of reconciliation on both the offender and the offended, so no one can do something to force the other party to forgive. But it sure helps the human heart move on from being offended when the offender is truly repenting and is genuinely sorry for their sins. Ephesians 4:22-25, 29 states:
…put off your old self, which belongs to your former manner of life and is corrupt through deceitful desires, 23 and to be renewed in the spirit of your minds, 24 and to put on the new self, created after the likeness of God in true righteousness and holiness.

25 Therefore, having put away falsehood, let each one of you speak the truth with his neighbor, for we are members one of another…. 29 Let no corrupting talk come out of your mouths, but only such as is good for building up, as fits the occasion, that it may give grace to those who hear.
The above verses explain that what we do can positively and negatively affect other people. When we throw off the old man and put on the new man, we are then able to put away falsehood, speak the truth in love, and speak words that help build others up.
Only when we are repenting, forsaking the sinful nature, and seeking to live from the new nature in Christ will we be of any service in helping others love and obey God. If you are still living in your sin, you will be of no help to the person you want forgiveness from.
3.How to Get Someone to Forgive You: Focus on Yourself and Receive the Rebuke
In Luke 17:3-4 Jesus instructs us to, "Pay attention to yourselves! If your brother sins, rebuke him, and if he repents, forgive him, and if he sins against you seven times in the day, and turns to you seven times, saying, 'I repent,' you must forgive him."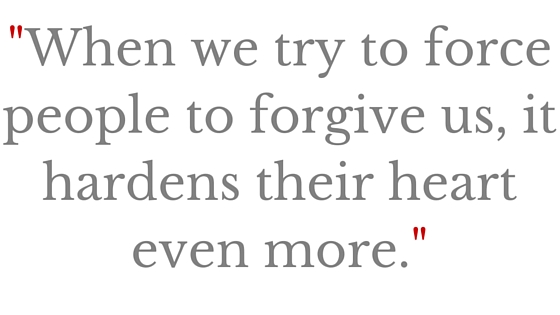 Again, to help others we must pay attention to ourselves. Additionally, we must receive the rebuke from others well. When we sin against someone, it is their biblical right to loving rebuke us. This does not mean they have the freedom to blast us, to be rude to us, or to sinfully judge us (which would be judging our hearts rather than our actions). But they are to righteously judge our external sins (1 Corinthians 5:12-13) and rebuke us when we error against him or her (Luke 17:3).
We must allow them their biblical right to correct us because we then have the biblical right to be forgiven. God tells the person who is wronged to rebuke AND to forgive. If we as the offender want the forgiveness, we must also be willing to receive the loving rebuke.
4.How to Get Someone to Forgive You: Allow Them To Be Angry
There is an anger that is not sin. Ephesians 4:26 explains, "Be angry and do not sin; do not let the sun go down on your anger, and give no opportunity to the devil."
God gets angry over sin (Colossians 3:6). There is a time and place for Christians to do the same. When we hurt, violate, misuse, and sin against someone, it is a right response on their part to have a righteous anger over this.
However, God does not remain angry if the sinner repents and relies on the gospel of Jesus Christ. God is always looking for ways to be reconciled to his enemies. Christians are called to do the same.
Ephesians 4:26 explains that there is a righteous anger, but is also explains that Christians must not linger and hold on to any anger for an extended period of time. If we want people to forgive us, we must allow them the time to be righteously angry over our sins against them so that they can then move on, forgive us, and "not let the sun go down" on their anger against us.
5.How to Get Someone to Forgive You: Pray for Them
Lastly and most importantly, if we want someone to forgive us, we must pray for them. Romans 8:26-27 states:
Likewise the Spirit helps us in our weakness. For we do not know what to pray for as we ought, but the Spirit himself intercedes for us with groanings too deep for words. And he who searches hearts knows what is the mind of the Spirit, because the Spirit intercedes for the saints according to the will of God."
When someone's heart is hard towards us, we are completely powerless to change this. People have no power over other people's hearts. Changing the heart of man belongs solely to the Holy Spirit. He alone has the power to change our hearts, to soften our hearts, and to heal our hearts.
When someone won't forgive us, it is the most powerless feeling in the world. After we have asked for forgiveness, the only thing left to do, and the most important thing to do, is to pray for the person we have hurt. We may not even know what to pray, "but the Spirit himself intercedes for us with groanings too deep for words."
So how do you get someone to forgive you? We must accept that forgiveness is their choice, give them the freedom to follow God without forcing it, we must genuinely repent, and we must depend on God in prayer to do only what he can do: heal and change the human heart.