"Who are you—Esau or Jacob?"- Genesis 27:18 (NLT)
What is my identity in Christ? Every Christian has asked it. It seems basic, like we all should know what our identity in Christ is.
But when answering the question, "What's my identity in Christ?" we have to first start with what we were so we can better understand what we are now through putting
our faith in Jesus.
Before My Identity Was in Christ, My Identity Was Found in the Family of Liars (Sinful Man)
Abraham pretended to be Sarah's brother (Genesis 12, 20), Isaac did the same thing to his wife Rebekah, Jacob pretended to be Esau (Genesis 27), and on Jacob's wedding night Leah pretended to be Rachel.
Out of this family of lies, to highlight God's amazing grace, came the whole nation of Israel, and out of the nation of Israel came the Savior, thus fulfilling God's promise to Abraham that "all peoples on earth will be blessed through you" (Genesis 12:3).
Abraham and his family was such a fitting choice for God to bring about redemption through because the whole human race sins just like them. We all lie about ourselves. We try to survive on this planet by adapting our identities to the present situation around us.
If it is more fitting to be a womanizer at work so we will fit it with the guys, we adapt into that. If a man you desire to date likes women who dress provocatively, your wardrobe changes. If the woman you desire to date wants a well mannered man, you put on a different face than you have when with the guys at the gym.
All sin is a marring of God's original image for you. God made man in his likeness, with a godly, holy, and pure identity. Sin occurs when we change who we are to protect ourselves from earthly threats rather than obeying and trusting God.
So before my identity was in Christ, my identity was rooted in lies.
Christ's Identity Never Changed Like Mine
Abraham, Isaac, and Jacob (the founding fathers of Israel) took matters into their own hands. When trouble arose in their lives, rather than trust God as the sovereign Lord over the world, they tried to change their identity to protect themselves from danger. In the process they sinned by further marring God's image placed on them.
Christ could have done this when presented with threats. He could have bent under the pressure of the Pharisees. He could have turned into a different guy every time he met a different person so he could be well liked by everyone.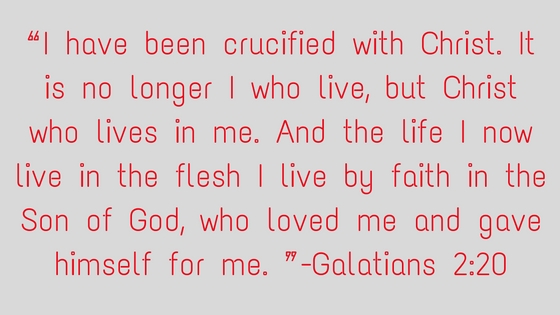 When Satan tempted Christ, he could have given in and forfeited his identity so that he could forgo the pain of temptation. When the religious leaders questioned him on his identity, "Are you then the Son of God?" Christ could have escaped the shame of the cross if he would have just denied his true identity.
Rather than try to change his identity, Jesus Christ trusted God and simply replied, "You are right in saying I am" (Luke 17:70).
My Identity Is in Christ Through Faith in the Gospel
Jesus came to earth to do what we couldn't, what we didn't. He came and bore God's image perfectly, never deviating from reflecting God accurately (Colossians 1:15, Hebrews 4:15). Jesus succeeded where I failed so that when I put my faith in him, what went wrong in my identity is corrected through Christ.
My straying from the identity God gave me was the problem, and only when I live in Christ through faith is this problem cured:
Christ redeemed us from the curse of the law by becoming a curse for us—for it is written, "Cursed is everyone who is hanged on a tree"— 14 so that in Christ Jesus the blessing of Abraham might come to the Gentiles, so that we might receive the promised Spirit through faith. . . . 26 for in Christ Jesus you are all sons of God, through faith. 27 For as many of you as were baptized into Christ have put on Christ. 28 There is neither Jew nor Greek, there is neither slave nor free, there is no male and female, for you are all one in Christ Jesus. 29 And if you are Christ's, then you are Abraham's offspring, heirs according to promise. (Galatians 3:13, 26-29)
Like Abraham, Isaac, Jacob and all their offspring after them, we come from the family of liars. But when we put our faith in Christ, we are adopted into God's family as his sons and daughters, into the Family of Truth, "for in Christ Jesus you are all sons of God, through faith."
Jesus never deviates from his true identity, and when we put our faith in him, he causes us to the same. My identity is now in Christ.