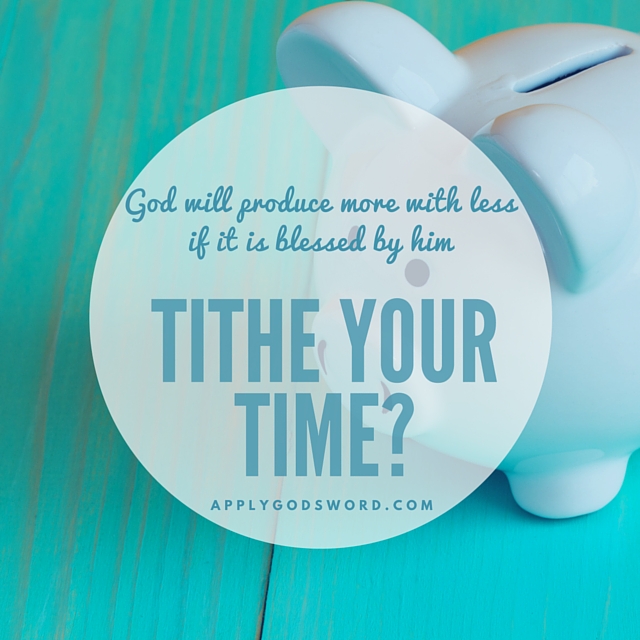 Bible Verses:
15 See then that you walk circumspectly, not as fools but as wise, 16 redeeming the time, because the days are evil.-Ephesians 5:15-16 (NKJV)
. . . redeeming the time (Eph. 5:16), literally, buying the opportunity. . . .[Christians] should make the best use they can of the present seasons of grace. Our time is a talent given us by God for some good end, and it is misspent and lost when it is not employed according to his design.-Matthew Henry's Commentary
Traditionally, a tithe is taking ten percent of your wages and giving it to the Lord. The idea is not that you are giving God a tenth of what is yours, but by freely giving the tenth, you are confessing that all you have belongs to the Lord. The ninety percent is just as much God's as the ten, and we as believers know that God will do more with our ninety sanctified to him than we could do with a hundred that we sinfully cling to in place of trusting God as our true provider. The same idea should be applied to our time.
Tithe Your Time Because God Can Always Do More With Less Than You Can Do With More
There are twenty-four hours in every day. All of it belongs to God (Acts 17:25), but so often we dedicate none of it specifically to him like we do with our paychecks. By this we confess that we believe we can produce more if we use a hundred percent of our time our own way. But if all our time truly belongs to God just as our finances, isn't it true that God will produce more with less if it is blessed by him?
Many of us struggle with giving God significant time in prayer and Bible study because the pressures of the day are knocking loudly at our door. So we cut time with God short by reading a verse or two, and then use the rest of our time getting done what we need to get done. There really are chores that need to be done, jobs that need to be attended on time, and so many other practical things that should not be left undone for the sake of "spiritual things." But when we take a portion of our day and give it purely to God, like money dropped into an offering plate, we are confessing that without the blessing of God we know we are doomed.
Tithe Your Time Because What We Do With Our Time Proves What We Believe About God
Since God is the great provider, since he owns all the resources of the world, and every number in our bank account belongs to him anyway, directly giving God ten percent makes perfect sense so that the ninety will be blessed by him who owns all. Time is no different.
What we do with our time proves what we believe of our God. God wants every moment of the day dedicated to him, used for his purposes. He wants the common chores of the day which must get done to be done in a way glorifying to him (1 Corinthians 10:31).
Tithe Your Time So You Don't Waste Your Life
The days are evil. If we are not careful, our time will be wasted like money spent selfishly rather than in a way which honors God. Therefore, to redeem the whole of our time, we must dedicate a part directly to God. If we hope to not waste our twenty-four hours, we must dedicate a significant percentage of it directly to God.
We must tithe our time