Here are 3 signs God is preparing to break down the walls in your heart.
And on a quick side note, I wanted to let you know open enrollment for AGW University just started. This is where I offer in-depth biblical courses for Christian singles who desire to glorify God in marriage one day. In addition to the three main courses I've offered in the past that will help you meet, date, and marry the one God has for you, I've also created a new course about online dating. For anyone who enrolls before the deadline of March 3rd at 11:59pm (EST), I'm giving away this new course as a free bonus. Lastly, if you enroll before the deadline, I'm also giving you 3 months of free personalized email coaching with me. For more information, click here to visit AGW University.
1. If a Wound from Your Past Is Hindering You from Embracing a Blessing from God in Your Present, This Is a Sign God Wants to Break Down Some Walls in Your Heart
For good or bad, our past experiences often shape how we live our lives today. If you were abandoned by one of your parents early in life, this could cause you to experience fears of abandonment in future relationships. If someone verbally abused you and tore down your self-esteem, you could walk into a new relationship with an improper view of yourself. Or if you opened your heart to someone before but things ended badly, you could become closed off out of fear of this type of thing happening again.
And even when nothing dramatic happened in our past, the Bible states that all Christians are still on the path of sanctification. We are fully justified in Christ, which means all the purity and wholeness of Jesus is accredited to our accounts by God through faith and by grace, but we are still learning to live from this new life God has given us which is called the process of sanctification.
In any case, whether we need to be healed from a past wound or we just need to mature more in Christ, God has promised to keep growing us so we can keep embracing more and more of his blessings in our lives. As Philippians 1:6 states, "And I am sure of this, that he who began a good work in you will bring it to completion at the day of Jesus Christ."
As a believer, God has started a good work in you, but there is still work to be done to bring it to completion.
2. If You Are Conflicted When It Comes to Love Because You Want a Relationship But You Also Don't Want to Get Hurt Again, This Is a Sign God Wants to Break Down Some Walls in Your Heart
The walls in our hearts cause us to live divided lives. A part of us wants a relationship but another part fears a relationship.
One reason for this is because of the walls we have formed in our hearts. When we have scar tissue from past wounds running through our hearts, it causes our hearts to have sections in it. But we then can only live from one section of our hearts at a time rather than allowing ourselves to experience the full gamut of emotions all at once.
For example, when you are exploring a relationship with someone, there are places in our hearts that should be excited and other places that should be guarded. We need both sides to be present. But when a wall is present in our hearts, we end up living from only one side or the other because we will want to avoid the wounded places within us. A bad past experience will force us to live on the extreme edges of life's possibilities. For example: You may choose to ignore what happened to you in the past thus causing you to live with an unwise excitement because you are choosing to ignore the wise and cautious parts of your heart. Or you could live with an extreme fear and become overly cautious because you are living in that wounded part of your heart and thus you are constantly reminded of all the bad things that could happen to you.
So rather than avoid certain parts of our hearts as a way of avoiding the pain we feel there, we need God to bring true healing and restoration. When God starts to break down those walls in our hearts, we can live in a much more balanced way because we will be prepared to go anywhere we need to in our hearts rather than avoiding certain desires and feelings because of past wounds.
As Psalm 51:10 states, "Create in me a clean heart, O God, and renew a right spirit within me."
3. If God Is Using the Pain of a Fresh Wound in Your Heart to Actually Bring Up an Older and Deeper Wound from the Past, This Is a Sign God Is Preparing to Break Down Some Walls in Your Heart
When there is an unhealed wound in our hearts that we are trying to ignore, God will often allow things to keep happening in our lives that will antagonize this wound and cause us to seek the healing we need. Sometimes the path to healing an old wound starts with coming to God because of a fresh wound. As C.S. Lewis wrote in his book called Mere Christianity:
Imagine yourself as a living house. God comes in to rebuild that house. At first, perhaps, you can understand what He is doing. He is getting the drains right and stopping the leaks in the roof and so on; you knew that those jobs needed doing and so you are not surprised. But presently He starts knocking the house about in a way that hurts abominably and does not seem to make any sense. What on earth is He up to? The explanation is that He is building quite a different house from the one you thought of – throwing out a new wing here, putting on an extra floor there, running up towers, making courtyards. You thought you were being made into a decent little cottage: but He is building a palace. He intends to come and live in it Himself."
If you came to the Lord because of something that just happened but now you feel like the Lord is using this experience to bring up even deeper things in you that need healing, this is a sign God is preparing to break down huge walls in your heart that need to come down. As Psalm 71:20-24 proclaims:
You who have made me see many troubles and calamities will revive me again; from the depths of the earth you will bring me up again. . . . And my tongue will talk of your righteous help all the day long, for they have been put to shame and disappointed who sought to do me hurt."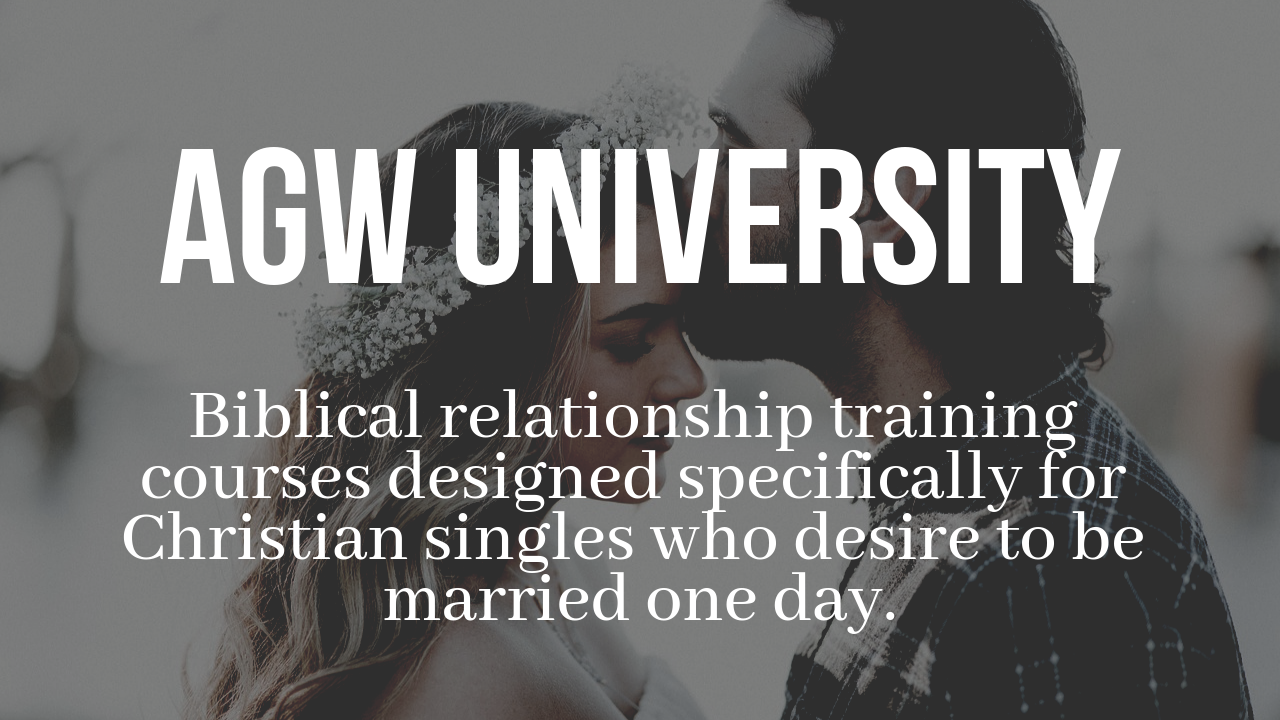 I designed AGW University specifically for Christian singles who want biblical relationship training that will help them prepare for a future godly relationship. I'm currently offering 4 courses. The first course is called Heart Check, and in this course I will teach you how to get rid of relationship idols while embracing healthy motives for marriage. The second course is called Marriage Material, and in this course we cover what qualities the Bible actually says are needed to have a godly relationship. The third course is called 10 Steps to Meet The One, and in this course I give you really practical tips on how to interact with the opposite sex and how to get into a healthy dating relationship. And my newest course is called The Effective Online Christian Dating Plan: A Powerful Strategy for Christian Singles Who Want to Be Married. I'm giving away this course for free to anyone who enrolls before the deadline of March 3rd. In this course I will teach you:
How you can know if God is leading you to try online dating.

How to use online dating in the most effective way possible.

How to avoid the most common errors that will prevent online dating from working for you.

How to properly fill out your profile to actually get results.

How to identify diamonds in the rough by properly assessing other people's profiles.

How to transition from meeting someone online to actually forming a relationship with them face-to-face.

And, lastly, I give you my top recommended online dating websites since there are so many to choose from these days.
In this course I get into the weeds with you and I give you extremely practical methods to increase the amount of people messaging you with online dating, phrases you can send to others that will help you get more people messaging you back, questions to ask on dates, and powerful strategies you can instantly apply when trying online dating.
In addition to these four courses which you get lifetime access to, by enrolling you also get lifetime access to the private Facebook group for AGW University students. And if you enroll before the deadline of March 3rd at 11:59pm (EST), I'm also giving you 3 FREE months of private email coaching with me. I really believe this is a powerful investment, and to prove this I offer a full 30 day money back refund, no questions asked.
There's a lot more I haven't even mentioned yet, so for more information you can click here to learn more.
You can check out all the course content before enrolling.
I'll see you over at AGW University. God bless!
-Mark