We can choose to get married even when we are not really ready. But throughout the Bible God gives us principles for how to have a successful relationship for his glory.
So here are 5 really important qualities God will develop in the Christian before releasing them into marriage. These are not the only 5 qualities needed to have a great relationship. These are just 5 really important ones.
1. Before God Releases You Into Marriage, He Will Give You a Healthy Agreeableness
The actual term "agreeableness" is really a psychological term, but before the secular psychology field put a label on this important trait in people, the Bible was teaching Christians the importance of being agreeable. Galatians 5:22-23 states, "But the fruit of the Spirit is love, joy, peace, patience, kindness, goodness, faithfulness, gentleness, self-control." 1 Corinthians 13:4-5 states, "Love is patient and kind; love does not envy or boast; it is not arrogant or rude. It does not insist on its own way; it is not irritable or resentful."
These verses could be expounded upon for eternity, but the word "agreeable" is certainly a good place to start as we think about the call of a Christian. Of course Christians are called to resist evil and be set apart from the world, never compromising on our beliefs or Christian ethics. So by being "agreeable" I am not talking about literally agreeing with everyone even when they are clearly wrong. In psychological terms agreeableness "is a personality trait that can be described as cooperative, polite, kind, and friendly."
It doesn't take a relationship expert to see why this type of attitude is so important to a healthy relationship. So again, being agreeable is not about literally agreeing with everyone and affirming everyone even when they are saying untrue things or living in a sinful way. To be agreeable does not mean you need to agree. Rather, when you are agreeable, you are doing what it says in 1 Corinthians 13:4-5. You are being kind, not rude, and you are not the type of person who insists on your own way all the time.
When you lack healthy levels of agreeableness, you will argue a lot and annoy people because they will feel your pushiness. In short, people who are agreeable are easy to be around. They don't always need to correct everyone they disagree with. They are secure enough in their own beliefs to not need everyone to agree with them.
2. Before God Releases You Into Marriage, He Will Produce a Healthy Level of Submission Inside of You
One of the most famous passages in the Bible about marriage is Ephesians 5:22-33. But before this passage, in Ephesians 5:18-21 it states:
And do not get drunk with wine, for that is debauchery, but be filled with the Spirit, addressing one another in psalms and hymns and spiritual songs, singing and making melody to the Lord with your heart, giving thanks always and for everything to God the Father in the name of our Lord Jesus Christ, submitting to one another out of reverence for Christ."
In Ephesians 5:22 there is the highly-debated verse that says, "Wives, submit to your own husbands, as to the Lord." But again, notice that before Paul starts explaining how wives and husbands are called to specifically reflect Christ and the church through the marriage roles, in Ephesians 5:21 all Christians are told that we are to be thankful to God always while "submitting to one another out of reverence for Christ."
Does this mean we are all called to "obey" each other? No, obedience and "submission" are not always a one-for-one substitute in meaning. Rather, submission has more to do with your attitude while obedience has more to do with your behavior. This is why I believe Paul later on encourages wives to "see that she respects her husband" (Ephesians 5:33). This "respect" is more in line with "submission" rather than cold obedience is.
My point is, according to Ephesians 5:21, all of us are called to "submit" to one another. This is not meant to take away from the special counsel God gave wives in verse 22. Rather, it is simply to highlight that none of us can have a healthy relationship with anyone without the right attitude. Just as a pushy, mean wife who disrespects her husband will push him away, so too will all people push everyone away from them if they have a defiant attitude towards everyone.
3. Before God Releases You Into Marriage, He Will Give You Empathy
This is really a continuation of what we were talking about in point 2. This is not about you agreeing with everyone, it's not forfeiting your rights for everyone else's rights, and it's not about allowing other people to treat you poorly over and over again. Rather, this is about our attitudes. It's about the spirit we project to those around us. It's about how we make people feel when they spend a lot of time with us. Do they feel pushed around, insulted, and trampled on? Or do they feel encouraged, supported, and heard?
The term empathy is often mistaken for sympathy, but they are different. Sympathy is when you feel bad for someone. Empathy is when you literally feel the bad someone is going through. Sympathy is admitting someone is going through something hard. Empathy is the ability to put yourself in their shoes and see that hard situation from their perspective. Sympathy is about remaining on the outside, but empathy allows you to enter into their experiences with them. Sympathy isn't bad. But if you really want to have a healthy marriage one day, you need to gain the ability to put yourself in someone else shoes so you can see things from their perspective. Notice what Philippians 2:4-7 states:
Let each of you look not only to his own interests, but also to the interests of others. Have this mind among yourselves, which is yours in Christ Jesus, who, though he was in the form of God, did not count equality with God a thing to be grasped, but emptied himself, by taking the form of a servant, being born in the likeness of men."
We are told to act like Jesus towards each other. Jesus didn't just remain on the outside feeling bad for us. Rather, he became human and enter into our world with us. Likewise, when you can enter into someone's pain and perspective, you are laying the foundation for a healthy relationship.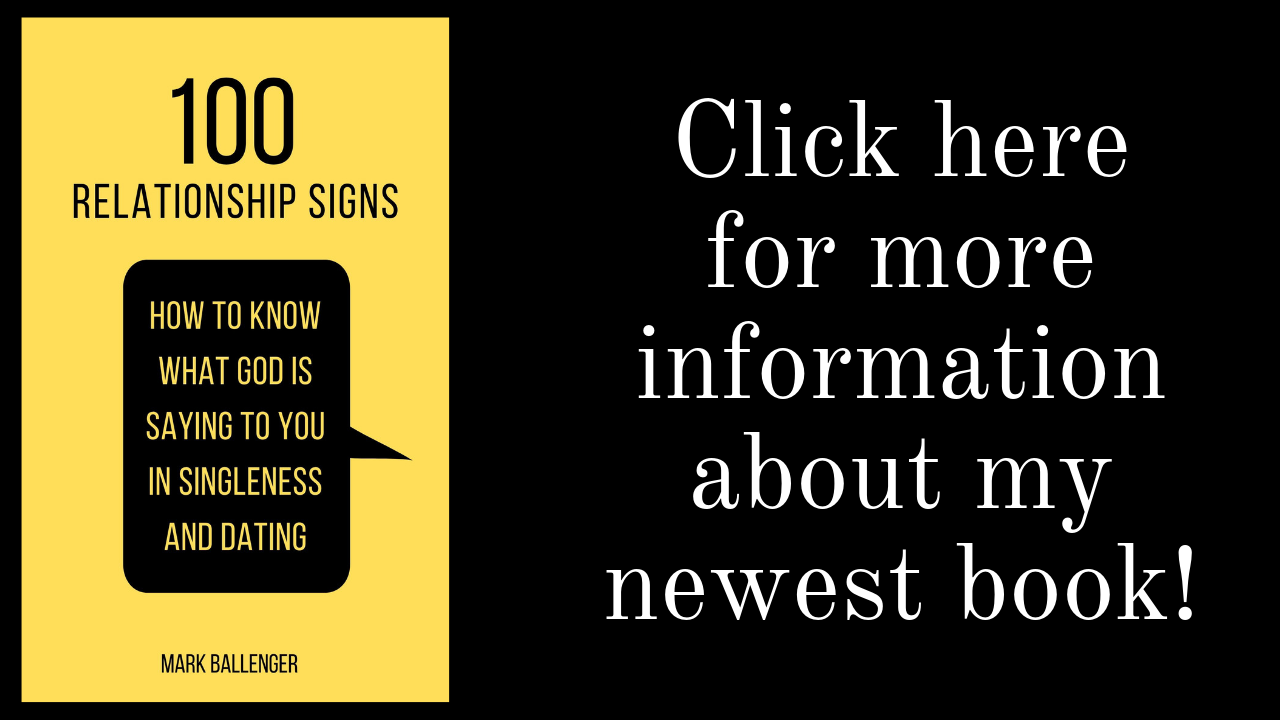 4. Before God Releases You Into Marriage, He Will Give You a Healthy Respect for Yourself and Others
Respect is so important in relationships because it protects you from ruining your connection when disagreements comes. You will disagree in dating. And you will certainly disagree in marriage. We are all unique individuals, and oftentimes our views and opinions are strong but different from each other – which can be a combustible combination.
Without respect, disagreements turn into arguments, arguments turn into fights, fights turn into wars, and wars always lead to casualties. When a man and woman lack respect for themselves, they allow the other person to take advantage of them. When a man and woman lack respect for each other, they take advantage of one another. You won't always agree about everything, but if you want to have a healthy relationship, you must be able to respect each other always. 
In 1 Peter 3:1-7, wives and husbands are given specific instructions. But notice what it says to all of us in the following verses:
Finally, all of you, have unity of mind, sympathy, brotherly love, a tender heart, and a humble mind. Do not repay evil for evil or reviling for reviling, but on the contrary, bless, for to this you were called, that you may obtain a blessing. . . . but in your hearts honor Christ the Lord as holy, always being prepared to make a defense to anyone who asks you for a reason for the hope that is in you; yet do it with gentleness and respect . . . ." (1 Peter 3:8-9, 15)
5. Before God Releases You Into Marriage, God Will Fill Your Heart with a Love to Give Away
Perhaps one of the greatest myths to having a healthy marriage is that you need to find someone you love. Yes, there is an element to a healthy marriage where people need to find the right person that they want to commit to in love. I'm not saying you can just marry anyone and feel love towards that person. Marriage love does involve emotions too and is not solely a moral choice. 
But I am saying that when you do find that person you want to commit to for the rest of your life in marriage, the love you have for that person can not originate with that person. If you only choose to love someone when you feel they are lovable, your love will fade. Love is a commitment that must last longer than your feelings. Some days you will wake up in a bad mood. If you let that bad mood dictate how you treat your spouse, you will hurt them. And when very hard things happen between you two, your emotional connection cannot be what keeps you together. Your love will actually be what keeps you together expressed through commitment which will then allow your emotional connection to come back whenever it begins to fade.
In short, before you can really love someone in marriage, you have to first possess a greater love from God inside of you that you can then give to this person. As Romans 5:5 states, ". . . God's love has been poured into our hearts through the Holy Spirit who has been given to us."