Here are 5 unpleasant things that God commonly allows to happen in your life when you meet the one he wants you to marry.
1. When You Meet The One, You Will Have an Unmet Longing for Clarity at First
When you meet someone you really like or you begin a relationship with someone, one of the strongest cravings in your heart will be a desire for clarity about the future. But a lack of clarity is a very common experience for a man and woman to have before God allows them to realize they are going to become husband and wife one day. It's unpleasant, but it's also very necessary. Through a season of confusion, God causes a greater clarity to be found than if there was no confusion.
Notice in James 1:5 how the lack of wisdom is used by God to bring us more wisdom, "If any of you lacks wisdom, let him ask God, who gives generously to all without reproach, and it will be given him." Without the lack we would never seek God for more.
Therefore, when you meet the one, God will allow you to have an unmet longing for clarity about your future with this person because God wants you to seek him for the clarity he wants you to have. But you won't gain this clarity without seeking it, and oftentimes we won't seek it unless we are very confused at first.
If the confusion remains forever about a relationship, this is not the one. When you meet the one, God will eventually make it clear to you in an unmistakable way that this person is the one for you.
2. When You Meet The One, There Will Probably Be Doubt at Some Point
I've talked to many Christians singles who genuinely are prepared to either commit to someone or leave this person if they just knew for certain what God wanted them to do. The problem they have, however, is that they are uncertain about what God is saying.
While unpleasant, having doubts about someone is very normal. In fact, I would say it's healthy at some point to have doubts. If you meet someone you barely know and instantly believe this person is the one and you never doubt that feeling you have, I would say that is more dangerous than feeling like someone is the one but then having moments of doubt along the way too. When it comes to dating, doubts are healthy at times because it shows you are not blindly following your feelings.
It's a little like questioning your own salvation at times. People ask me all the time, "I'm afraid I'm not truly saved? How can I know for certain I am truly a Christian?" While confessing with your mouth that Jesus is Lord is very essential (Romans 10:9), Jesus also said you shall know them by their fruit (James 2:17, Matthew 7:16, Galatians 5:22-23, 1 John 2:4-6).
One piece of fruit the Holy Spirit will produce in true Christians is a willingness to examine oneself. 2 Corinthians 13:5 states, "Examine yourselves, to see whether you are in the faith. Test yourselves. Or do you not realize this about yourselves, that Jesus Christ is in you?—unless indeed you fail to meet the test!" The fact that you are willing to examine your authenticity as a Christian is a good sign you truly are an authentic Christian.
Likewise, the fact that you are willing to doubt someone is the one is a good sign you are not blindly following your own feelings. The doubt will need to go away if this person truly is the one. God will never lead you to marry someone you have doubts about. But when you meet the one, it's normal to have doubts that this person is the one because this is a part of the process in dating that God will use to confirm this person is actually who he wants you to marry.
When you know you would be willing to hear that this person is not the one, this will allow you to trust it more when you do feel God is saying this person is the one.
3. When You Meet The One, You Two Will Sin, Confess, Repent, and Reconcile
When you meet the one, this process will not be devoid of real problems. You two will sin against each other and with each other. Certainly there will be levels to this. Some couples sin in more damaging ways against each other and with each other. But it's impossible to put two sinful people together and to then expect those people to never sin.
Therefore, as Christians, you two will need to go through the biblical process of restoration when sin does occur. When sin occurs, we must confess that sin, repentant of that sin, and seek to be reconciled. Bigger sins require more work during this process, but even with small sins this process is still needed. This process can be done in seconds or it can be done over the course of months. But when God puts you with the one, you two will need to confess and reconcile with each other whenever sins occur between you two; you two will also need to confess and reconcile with God when you two sin together against God in anyway. As 1 John 2:1-3 explains:
My little children, I am writing these things to you so that you may not sin. But if anyone does sin, we have an advocate with the Father, Jesus Christ the righteous. He is the propitiation for our sins, and not for ours only but also for the sins of the whole world. And by this we know that we have come to know him, if we keep his commandments."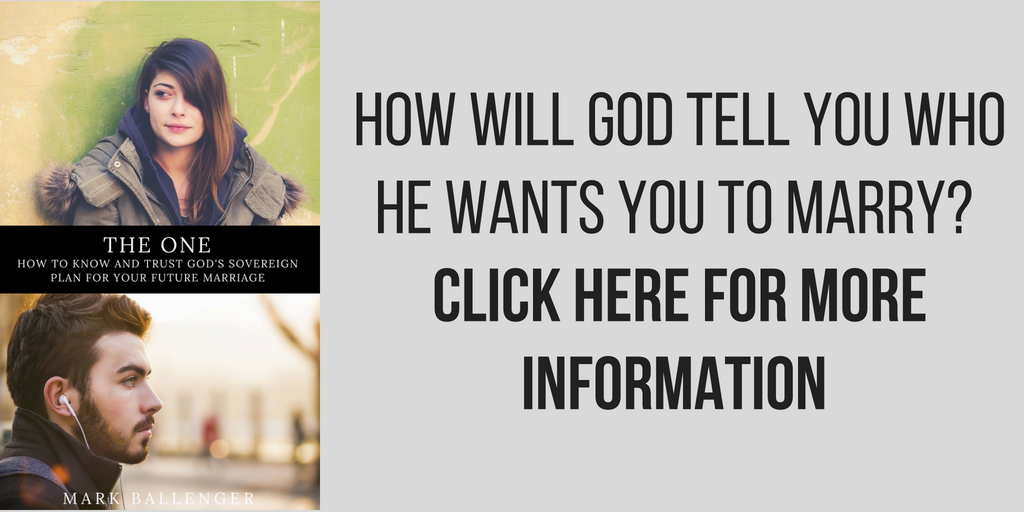 4. When You Meet The One, Some People in Your Life Will Probably Disapprove
Certainly some couples get 100% approval from everyone in their lives. But when you meet the one, what's more common is that most people will approve of this relationship and there will be a few who do not.
I would be seriously concerned if most people in your life were disapproving of this relationship. People who love you are willing to tell you hard things (Proverbs 27:6). So don't ignore your Christian community if most of them are sharing their concerns about this relationship. But you should also expect some people in your Christian community to be disapproving because some are not mature enough in the Lord to give good relationship advice and some people disapprove of your relationships because they have their own relationship issues they are projecting onto you.
So again, don't be hardheaded if everyone is concerned for you. Be willing to listen to the warnings of those who love you. But also don't expect everyone who loves you to be a relationship expert with perfect relationship advice. It's okay if someone disapproves of your relationship. In fact, when you meet the one, it's highly likely some people will disapprove of it.
5. When You Meet The One, You Will Need a Lot of Patience
One of the most common questions I get goes something like this, "I met someone who really loves the Lord, they are showing great spiritual fruit, we are getting along really well, but I'm just not sure if God is truly saying this person is the one or not. What should I do?"
The fact is, when you meet the one, you need to have patience. God isn't going to tell you what lies ahead in the next two-hundred pages of your story. He's going to help you get through the page you are on right now. And then he will help you through the next page, and the next page, and the next page. Don't expect to know the full story when your story with someone is just beginning.
When you meet the one, it will be unpleasant not knowing what lies ahead, but through patience God will make his will clear to you in his timing. As 1 Corinthians 13:4 teaches us, "Love is patient . . . ."