Here are 5 things that will happen in your life when God does not want you with someone.
1. Other Desires in Life Will Outweigh Your Desire to Be with One Another When God Does Not Want You with This Person
In the Bible, marriage is never commanded but it is a biblical option for those who desire it. Therefore, when it comes to knowing what God wants for you in a relationship, you must pay close attention to your own desires because God will never force you to be with someone.
Therefore, if your desire for other things in life like schooling, your career, or a relationship with someone else is outweighing your desire to be in a relationship with this person, this is a sign God is not calling you to be with this person. 
2. Your Relationship Will Be Built on Something that Fades Over Time When God Does Not Want You with Someone
Every day can't be filled with laughter. Eventually gravity starts winning the war on all our bodies. Wrinkles start to form, money gets spent, weight starts to add up, social goals change, and the youthful passions people have for one another always dwindle with time.
Therefore, it's safe to say that when God wants a man and woman to marry one another, their relationship will be built on a deeper love for one another than the type of superficial interest people often have in relationships. Attraction, laughter, and having fun together are not bad things. You should like to be with the person God has for you. But when there is not a deeper love filled with commitment present, this is a sign God does not want you with this person.
This is why 1 Corinthians 7:39 states, "A wife is bound to her husband as long as he lives." True love will always be based on an enduring foundation.
3. You Will Feel Further and Further from Christ the Closer You Become with This Person When God Does Not Want You with Him or Her
While a godly relationship is a joyful gift, we must remember that everything from God is ultimately meant to enhance our walk with him. Satan, however, wants us to pursue those things which hurt our walk with God.
These truths are really important when it comes to relationships. You will know when God is behind a relationship or when Satan is behind a relationship based upon how this relationship is affecting your connection to Christ. If you feel more and more distant from God the closer you get with this person, this is a sign God does not want you in this relationship. As Ephesians 3:17-19 (NIV) states:
And I pray that you, being rooted and established in love, may have power, together with all the Lord's holy people, to grasp how wide and long and high and deep is the love of Christ, and to know this love that surpasses knowledge—that you may be filled to the measure of all the fullness of God."
4. You Will Feel Divided in Yourself When You Are with Someone God Does Not Want You With
It is a sign you are with the right person when God is using this relationship to bring your true self out even more. Likewise, it is a sign God does not want you with someone when this relationship is causing you to deny who you really are. As Nathaniel Hawthorne wrote, "No man for any considerable period can wear one face to himself and another to the multitude, without finally getting bewildered as to which may be the true."
When you have to wear a mask to be with this person, this is a sign God does not want you in this relationship. As Ephesians 4:22-24 (NIV) states:
You were taught, with regard to your former way of life, to put off your old self, which is being corrupted by its deceitful desires; to be made new in the attitude of your minds; and to put on the new self, created to be like God in true righteousness and holiness."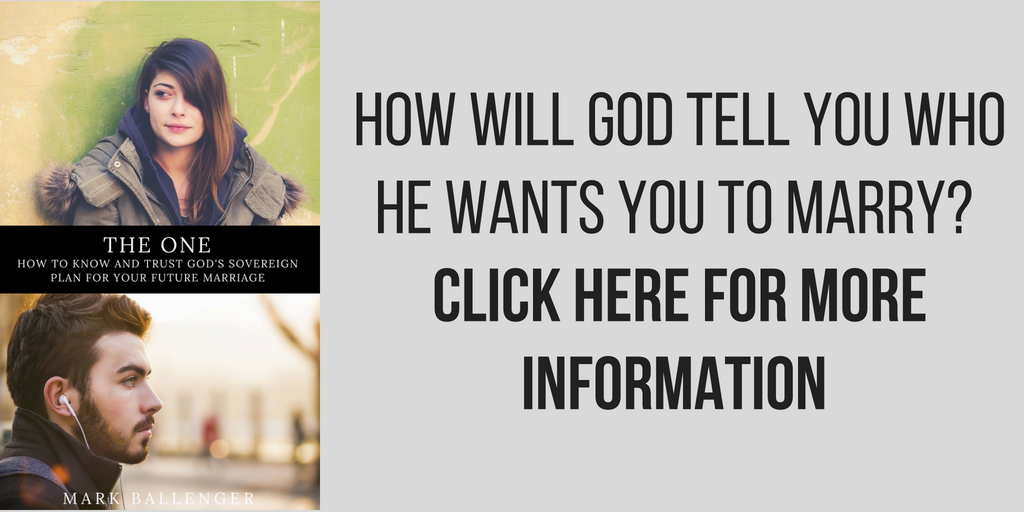 5. When You Are in a Relationship God Does Not Want You in and You Then See a Healthy Christian Relationship, You Will Say, "I Wish I Had That."
God will often show us what we could have to motivate us to let go of what he does not want for us. In other words, sometimes God will show you a healthy Christian relationship or marriage that someone else has to remind you what is possible if you were to let go of that relationship you know he does not want for you.
I would never want to promise you that if you let go of a relationship God does not want you in that God will definitely then give you the Christian relationship you really long for. However, what I can promise you is that if you cling to what God does not want for you, you will always be living outside of his will for your life. When you let go of what God does not want for you, your life will always be better. For as Psalm 103:1-5 proclaims:
Bless the Lord, O my soul, and all that is within me, bless his holy name! Bless the Lord, O my soul, and forget not all his benefits, who forgives all your iniquity, who heals all your diseases, who redeems your life from the pit, who crowns you with steadfast love and mercy, who satisfies you with good so that your youth is renewed like the eagle's."